What is Residential Interior Design?
Before we talk more about the cost of luxury interior design, let's first have an overview of residential interior design. It refers to the art of creating interior spaces that will make a residential building aesthetically pleasing and fully functional at the same time.
This can be applied to a variety of residential buildings including, but not limited to, apartments and homes. While it falls within the architect's responsibilities to build the house, it will be up to the designer to make it a home.
What Makes Interior Design Special?
The answer to this question is pretty simple: Here at Proficiency interior design provides life or soul to a building and transforms it into a fully livable space. It doesn't just focus on aesthetics, but it also focuses on how it will function to make living inside a building pleasant and comfortable.
What Types of Interior Design Are There?
There are a variety of interior design types, though the most popular among them are as follows:
Bohemian
Coastal/Hamptons
Contemporary
French Country
Hollywood Glam
Industrial
Modern
Minimalist
Mid-century Modern
Rustic
Scandinavian
Shabby Chic
Traditional
Transitional
Residential Interior Design in London
British designers, particularly ones from London, have a particular talent for designing interior spaces that stemmed from eclectic ideas and inspirations. As such, you can expect a certain depth to British residential interior design which is rather unique in itself.
At the same time, a number of interior design and build companies in London are also willing to take inspiration from travels throughout the world. This results in a mixture of uniquely British and globally-inspired designs.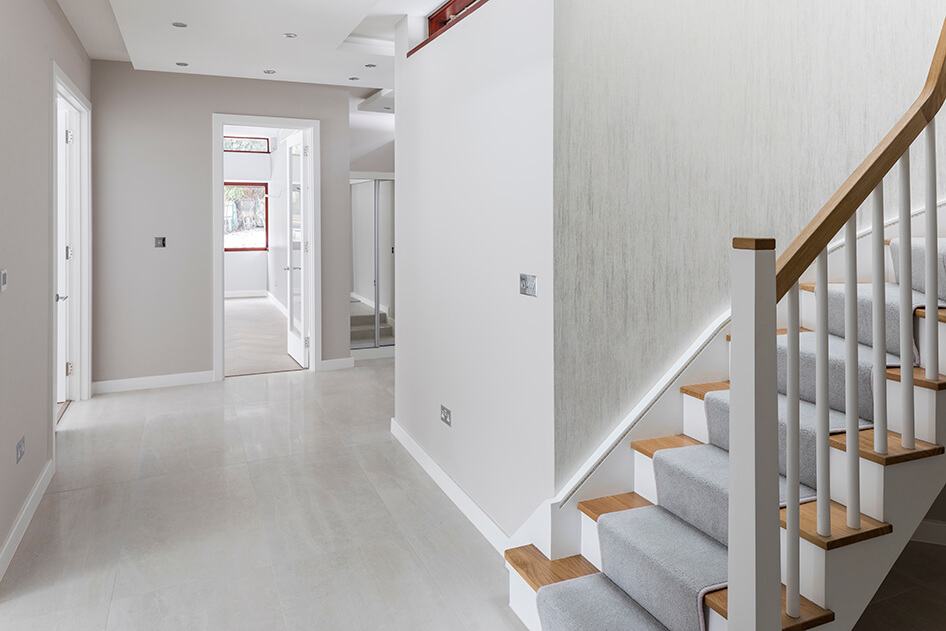 How the Costs of Interior Designing in London are Calculated
Now that we've had an overview of London interior design, let's now talk about how interior designers charge for the residential design and build services they offer. They're as follows:
Time Charge
This method is a pretty simple and commonly used means of charging. It involves project management throughout the duration of the interior design project. In most cases, the hourly rate will start at £50; however, it can even go up to £150, especially if it involves high-end designs
Room by Room Method
By far the most common method used for calculating the costs of high end residential interior design in London, the room by room method is designed for small, uncomplicated projects. In most cases, interior designers will charge £500 as a starting point for a concept design per room for a small and simple project.
Percentage
This involves calculating the fees as a percentage of the project's total cost outlay.
Fixed Lump Sum
In this calculation method, fees are computed as a product of the hourly rate as well as the estimated completion time for the project. This way, you will be able to efficiently budget your funds and even have an idea of the cost outlay even from the start.
Why Work with a London Interior Design Company
Needless to say, even a small professional input can go a very long way. With assistance from an expert residential interior design company, you will be able to update your house and transform it into a more modern and high end living space with a more sophisticated appearance and overall functionality!
During the design and build process, your designer will evaluate your house, listen to your requirements, and provide you with viable options on how you can optimise your space and make it a lot more appealing and functional.
Some interior design companies will charge you hourly, but most offer packages that will suit your different needs and budgets. Despite that, even just a few hours of help from a professional designer could make a huge difference.
Their assistance can help drive you towards the right direction, allowing you to find affordable yet efficient solutions that will suit your taste and budget.