Bedroom Interior Design Ideas For Small Bedroom
---
The bedroom is the place where we long to go after a long hectic day, or where we want to lock ourselves in during the winter, or even on our days off. It's the place we find the most comfort and security in our home, and this is why it's so important that we get the interior design of it spot on. It needs to reflect your personality and your taste so that when you enter the bedroom, you know you're home. Many people are under the misconception that just because they might have a small bedroom, that there isn't much that can be done in terms of design.
This is why we're going to give you a couple of ideas that are bound to make your small bedroom feel like home with flair.
The bed can be big
Seeing as how it's the bedroom, the bed has got to be the most important piece of furniture in the room. Just because you have a small bedroom, it doesn't mean that you have to have a small bed. Since the bed is the center of attention, you can go ahead and get the size you like, and then work around that. There are bed frames that are very simple, and make the mattress the star of the bedding area rather than the frame standing out, which can sometimes take over the space, and also literally take up too much space. So go all out when it comes to picking your mattress. There are a variety of options, but you should definitely consider the benefits of a hybrid mattress because it works for pretty much anyone. It has layers of foam and allows both side sleepers and people with back problems to sleep well. Don't go with the trend of just because it's a small room, you have to have the bed closer to the floor, though this is not a must. There are plenty of ways to make the bedroom seem more spacious without having to compromise with the bed itself.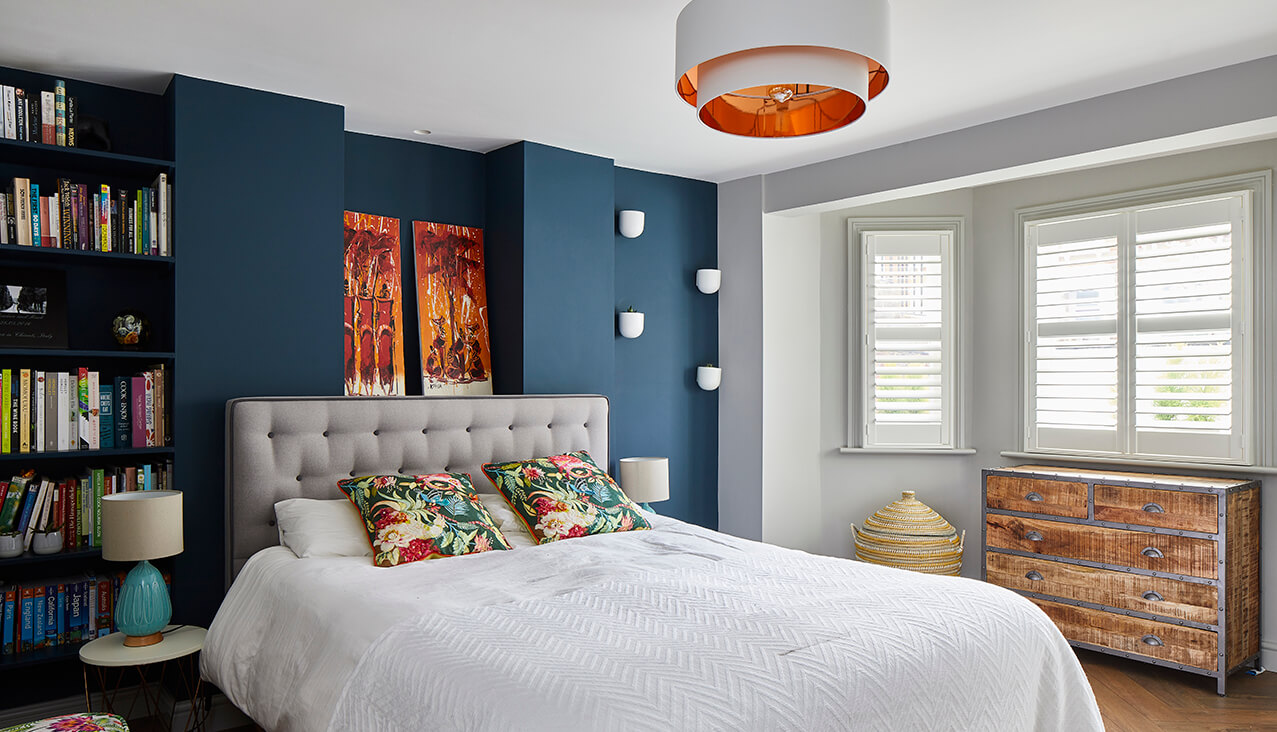 MAKE IT SEEM MORE SPACIOUS
To make the bedroom seem more spacious, there are a couple of things you can do. You can start off by painting the ceiling a darker shade so that it looks higher. You can also place your curtain rods at the very top of the ceiling to give this effect as well. Make it a point to not clutter the room with too many things and rugs so that it can look more spacious. You can also have a big mirror placed either horizontally by your dresser, or get a vertical mirror- both will make the space look much bigger than it is.
BE SMART WITH STORAGE
In order to follow through with minimizing the clutter, you have to have smart storage options. You need to keep things in your bedroom, so you can't really avoid that by putting your clothes and belonging in another room- it's just not convenient. There are bed frames that come with storage underneath, so this is a great option to go for. There are also cupboards that you can have installed into the wall rather than have it sticking out and taking up too much space.
HMOUNT YOUR LIGHTING
When it comes to a small bedroom, you should consider mounting all your lighting fixtures rather than having lamps or a hanging piece from the ceiling. There are some really cool options that you can look into with some research online, or visit a couple of stores in your area to get better options as well. There are so many different kinds of mounted lights and you can also get ones where you can have a dimmer as well. Keep in mind that lighting is imperative when it comes to defining your space, so you need to do this just right.
Having a small bedroom doesn't mean you have less options to play with when it comes to the design. By utilizing the ideas mentioned here, you can have everything you want in your small bedroom, and you can also have it feel much more spacious that what you had probably anticipated. By playing with colors, lighting, storage and furniture placement, you can actually have a great cozy bedroom that reflects your style as well. The best part of all of this, is that you really don't need to compromise on the size of the bed just because the room is **er than most bedrooms. Remember that the bed is the focal point, so you can play around with the frame options to really bring out the best of your bedroom design.