Small Ensuite Bathroom Design Ideas
When it comes to a small ensuite bathroom, you certainly don't want your space to look cramped or congested in any way because of overcrowding things. Think minimalist, stylish and functional! Whatever design you choose to settle for, it should be a reflection of your taste, style and personality. Luckily for you, there are several small ensuite bathroom space saving ideas that you can opt for.
As much as you get the chance to let your creative juices flow when choosing a suitable design, be sure not to lose yourself and end up overdoing everything. It gets even better when you're working with qualified luxury residential interior designers in London since you get professional insight through every step of the way. Highlighted below are some of the ensuite bathroom ideas that you can consider.
Choosing the right colour scheme
The colours you choose for your space ultimately determines how it will look. When it comes to a small bathroom, it is advisable to opt for neutral or bright colours because not only do they make it look lighter but also spacious and bigger than it really is.
With darker and bold shades, your bathroom will look smaller than it actually is. You can have the darker shades on the floor and reserve the bright colours for your walls.
Selecting suitable furniture
You should choose compact bathroom furniture that doesn't make your space look or seem congested in any way. For instance opting for wall-hung or wall mounted structures ensures that you have enough floor space left. Working with the right London design and build experts will ensure that all the fixtures are correctly placed.
You can opt for a sink basin with storage space underneath. This will take up very little space thus making it suitable especially if the bathroom is compact. Whatever furniture design you opt for, you should work with your interior designer to ensure that it doesn't look out of place or give your bathroom an awkward vibe.
Using natural stone for your bathroom
Opting for a natural stone bathroom is one way to ensure that you have a distinctive touch in design. If you're looking for a solution that transmits elegance, beauty and exclusivity, then natural stone is the best option for you.
If you're worried whether you'll find an option that suits your personality, taste and preferences, there are several options to choose from. Some of the natural stone options you can select for your bathroom include the following:
Marble. It's the hardest and most resistant natural stone.
Slate. Aside from being versatile, its durability and impermeability stand out.
Tarventine. Its resistance and beauty are quite a catch.
Choose a space-effective layout
The small ensuite layout ideas that you opt for should be space effective. One way to ensure that you have adequate space in your ensuite bathroom is by ensuring that you opt for wall mounted structures.
Wall hung vanity units are a great way to ensure utmost optimisation of your small space. The floor space left makes your small bathroom feel and look bigger and more spacious than it is.
Ensure that you have adequate storage
There are several bathroom storage ideas that you can implement without necessarily congesting your space. You also get various modern bathroom vanities that you can opt for without you worrying about the pipework or plumbing showing.
The house renovation contractor should be able to seamlessly fit the vanity unit into your space without compromising your bathroom design. Floating shelves also come in handy in small spaces because they do not take much space and are pretty functional. Recessed shower storage is another option that you can consider.
Consider strategic mirror placement
Mirrors are ideal when it comes to small bathroom ideas and small spaces in general. Aside from the fact that they reflect light, thus making the room seem brighter, they also give the illusion that the room is bigger and more spacious than it really is.
You can either opt for mirrored cabinets or place a large mirror on one of the walls. When choosing the right mirror, it's advisable to opt for fog-free mirrors especially if the ensuite bathroom has little or no ventilation.
Make a statement with the decorative accessories you choose
Your ensuite bathroom is one place you get to make a statement and even choose design ideas that reflect your personality and preferences. However, just because you want to go all out and make a statement in your little haven, be careful not to clutter it.
Your designer should be able to guide you through choosing the right accessories that will not make the interior design of your bathroom look out of place. You can have an outstanding art piece as your focal point or even opt for candles to make your room feel warm. Pretty vases and having one or two indoor plants are another way to add your personal touch.
Choose the right shower for your ensuite bathroom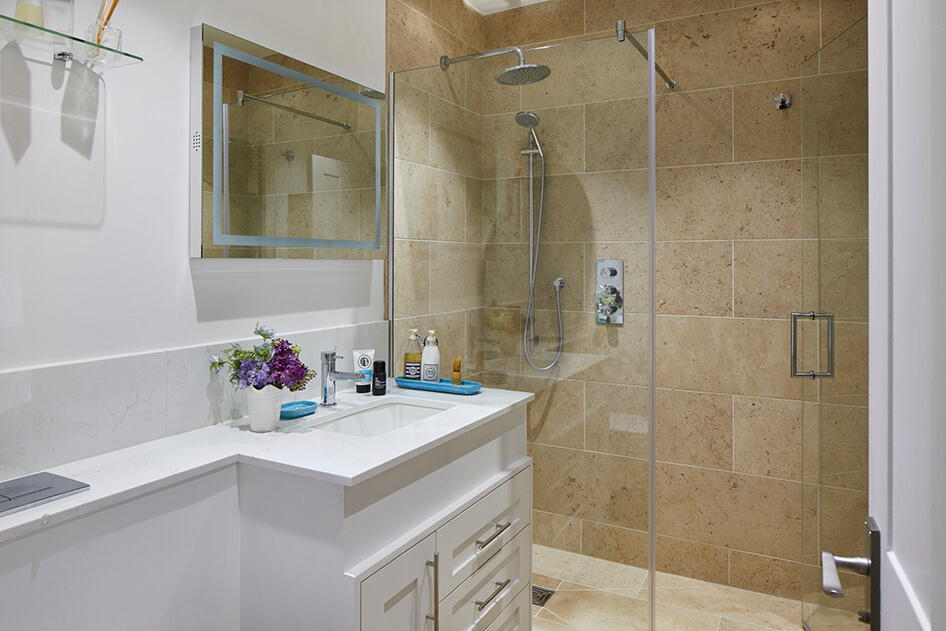 Regardless of the size of your space there are several en suite shower ideas to explore. This can include having corner shower enclosures so as to maximize the available space. If the space is enough, you can also opt for a walk in shower enclosure. The glass panel on the enclosure will reflect the lighting thus making your bathroom seem bigger.
Determine whether you want a bath, shower or wet room
This will depend on how much room you have. Having a shower/bath combo is a common option for most small bathrooms especially because of the space scarcity. This will also leave enough space for other fittings like the toilets and sink.
We have already seen the various small shower enclosures that you can opt for ensuite bathrooms. Although a wet room may seem unrealistic for a small bathroom, it makes your en suite shower room look stylish and spacious and you'll also find several small ensuite wet room ideas to implement.
We have already seen the various small shower enclosures that you can opt for ensuite bathrooms. Although a wet room may seem unrealistic for a small bathroom, it makes your en suite shower room look stylish and spacious and you'll also find several small ensuite wet room ideas to implement.