9 Small kitchen extension ideas
Kitchen extensions are one effective way of acquiring additional space or even improving the value of your property. Most people in the UK tend to prefer this option because the cost of small kitchen extension is more affordable compared to moving out or purchasing a new house. It's also one way to get a new kitchen for your home. With kitchen extensions being one of the common forms of extensions people tend to opt for, there are several compact choices that you can go for in United Kingdom.
When working with qualified local builders, getting your desired design ought to be a no-brainer. Whether you decide to have a rear, side-return extension, or wrap-around kitchen extension, there are several extension ideas that you can implement in your UK property.
1. Creating an open-plan kitchen space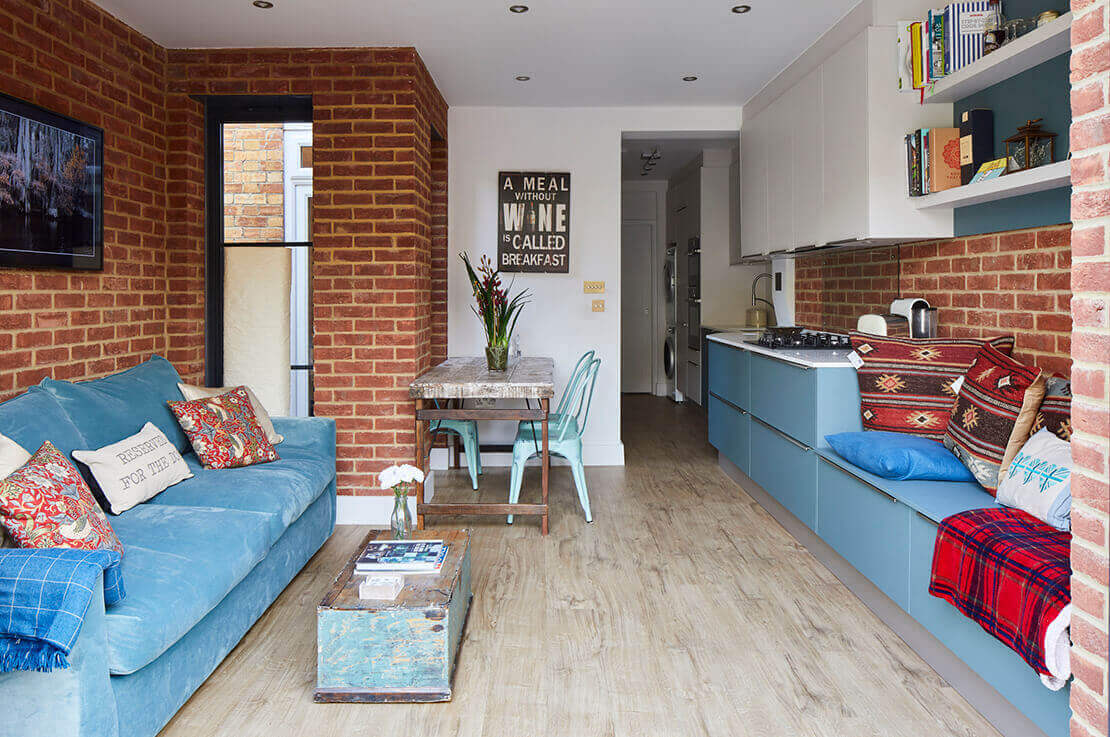 The good thing with an open-plan kitchen is that not only will your space appear bigger, but you will also have additional space to accommodate everyone in the home. With this design, you can easily combine your dining area and living space with your cooking space. This will certainly give you a great chance to bond with your family over dinner or any other meals
2. Have an extended indoor and outdoor flooring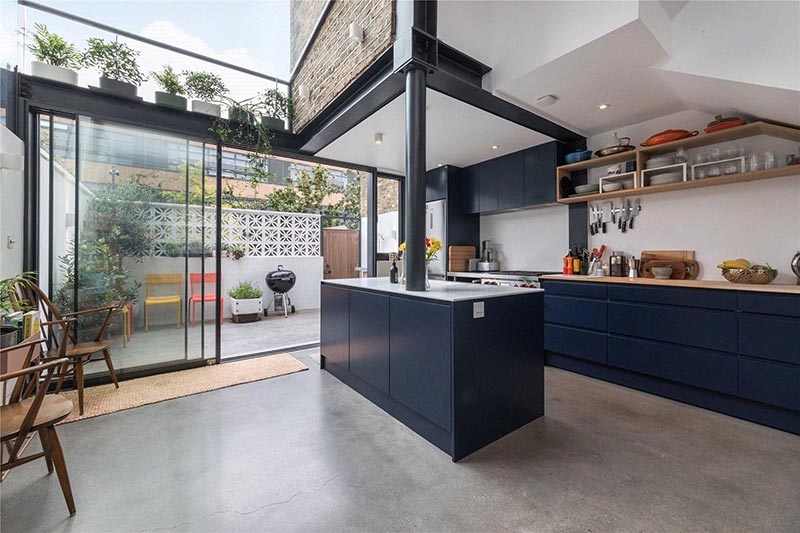 One way to make your kitchen extension appear larger and more spacious, is by extending your kitchen flooring to your patio. You can do this by having the floor tiles continuously placed in both spaces (kitchen and patio).
This option is especially advisable if you have very little space left outside that you don't mind losing. For the tiled patio, you can always spruce it up by placing some outdoor flower pots or beautiful artefacts to decorate the space.
3. Consider having a small rear kitchen extension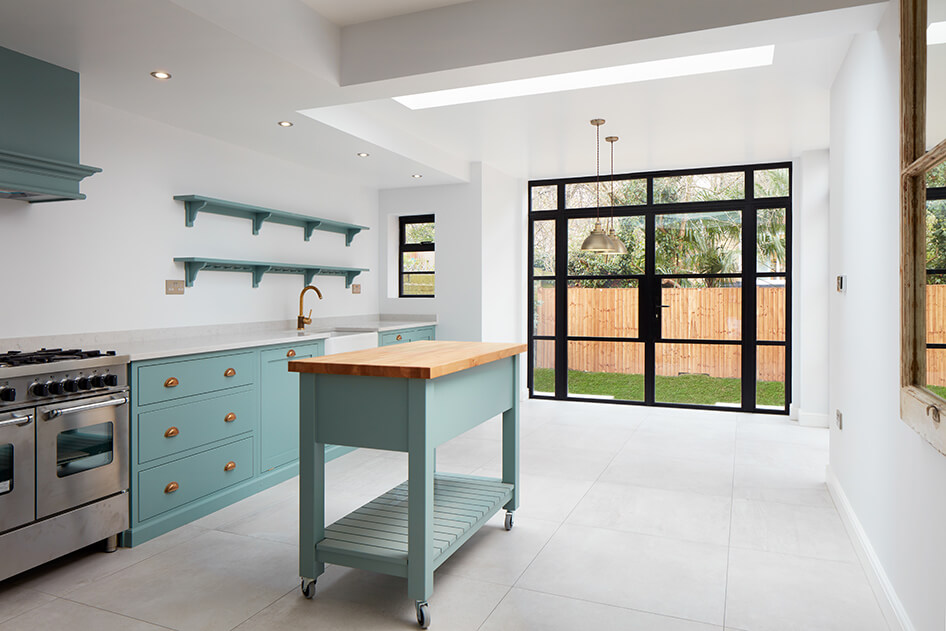 With a rear extension, you will have adequate room to accommodate a large diner space. Your kitchen will no longer have limited space thus giving you the chance to decorate your space accordingly. You can opt to either have a kitchen island or even a breakfast bar depending on what you think will suit your space best.
Also, a rear kitchen extension can come in handy if you have limited garden space. In such a case, you can have an extension of a few meters (like 2m), and it will make a huge difference on the amount of extra space you can have for your kitchen.
4. Spruce up your kitchen with more lighting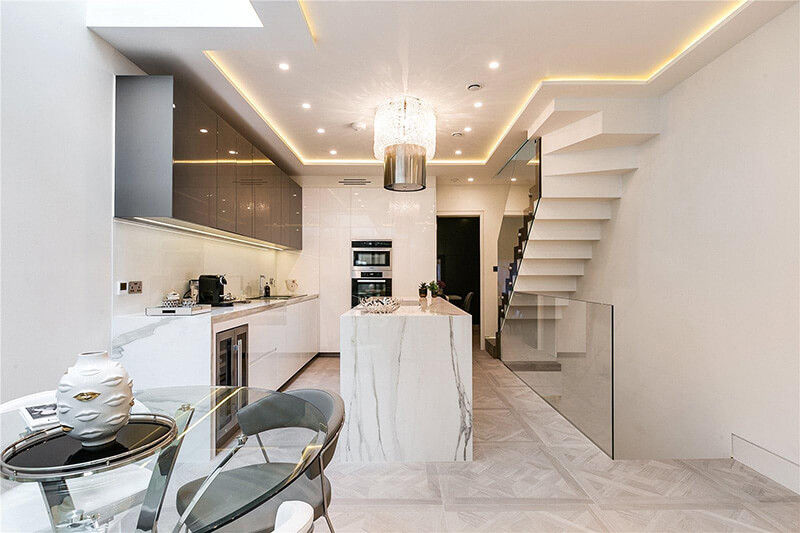 Good lighting, especially the natural light that will be flooding the room will not only help you save energy but you also get to give your space more life. One way to achieve this is by replacing your solid roofing with roof lights or a glass roof. Allowing more light into your kitchen will also make it look more large and spacious.
5. Do not limit yourself with the colours you choose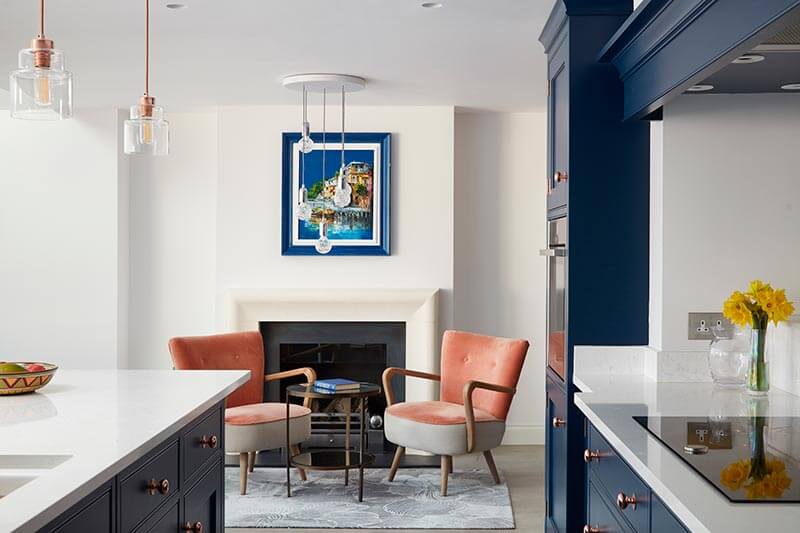 Most people tend to steer clear from using bright or bold colours on their spaces. You do not have to stick to the usual white or cream, try opting for something like mustard or even pink.
If you think painting the whole wall the same colour won't turn out great, how about starting with the space above the kitchen wall tiles. Depending on the theme of your interior, you certainly won't lack a suitable option for your kitchen.
6. Choose a design that will give you more head height
You can either opt for a box dormer or a pitched roof property extension. With such, your kitchen will have more room to even accommodate the placement of stairs in case you decide to have a double storey extension. You'll just have to ensure that the whole process is adherent to the building regulations requirements.
7. Choosing the right furniture for your kitchen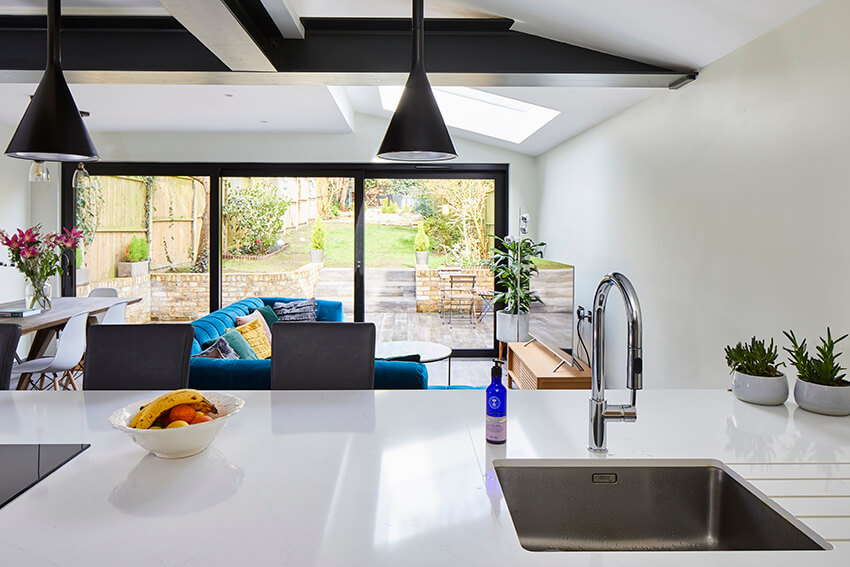 It's essential to choose the right home decor especially when choosing furniture for your kitchen so that you can ensure that you make the most of your available room. From having good storage to choosing the right kitchen furniture, your interior designer should be able to help you choose the best design for your house.
8. Incorporating bi fold doors in your design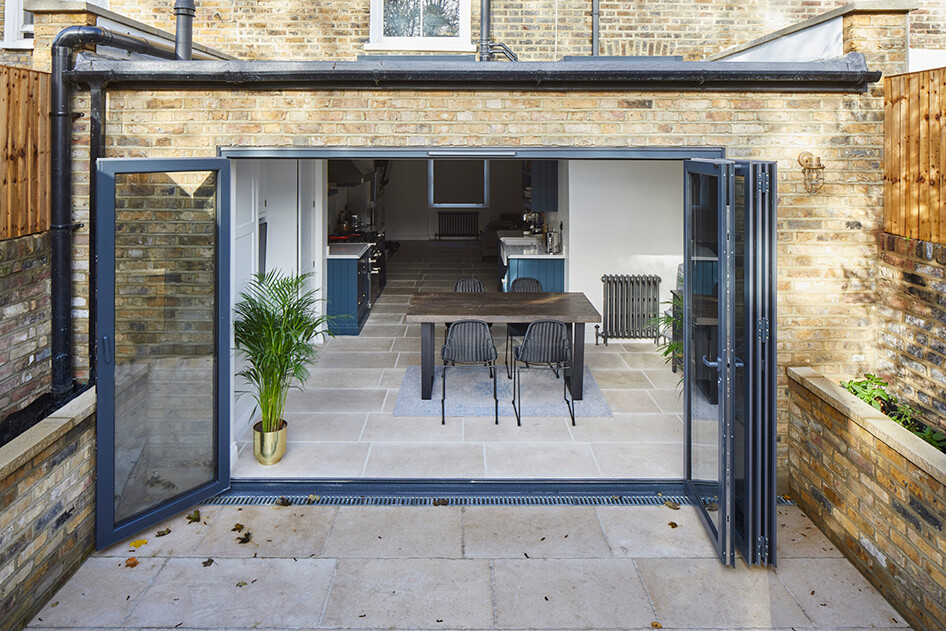 Having bi fold doors instead of the ordinary doors is among one of the many kitchen extension ideas that you can implement. With bi folding doors, you get to create a warm and welcoming space that connects to your outdoor space such as your garden or patio. Also, there is so much light that gets into your kitchen area, thus giving it more life. Sliding doors are also a great option if you have limited space.
There are several other kitchen home extension ideas and diner layout ideas that can transform your home into something different and unique. With the right interior design team, settling for the best option won't be hard.
How much does a small kitchen extension cost
When it comes to the cost of kitchen extensions, there are several factors which impact the overall cost. On average, a kitchen extension will cost you anywhere under £100,000. This will of course be dependant on several factors such as:
The size and complexity of your extension
The type of property you have
The location of your property
Your budget
The type of builder you decide to work with
The amount of work involved
Other things you have to consider when planning on small extending your kitchen includes the need for planning permission and adherence to the building regulations set by the local authorities. This way, you'll be able to avoid any problems with the authorities while your building extension project is ongoing.