Best Window Design For Your Interior
Everybody wants to come home to a sturdy house with a pleasing interior. Walls, windows, and doors, as well as roof and floors, are all essential parts of building a house. The roof provides protection from external elements such as direct heat from the sun or heavy rains. The floor support the weight of the house, including the weight of other elements in the house such as furniture and the people living in that house. The walls support both the roof and the floor, and of course the doors and windows too. The doors provide access to the interior of the house, while the windows provide access to natural light and airways that generate ventilation.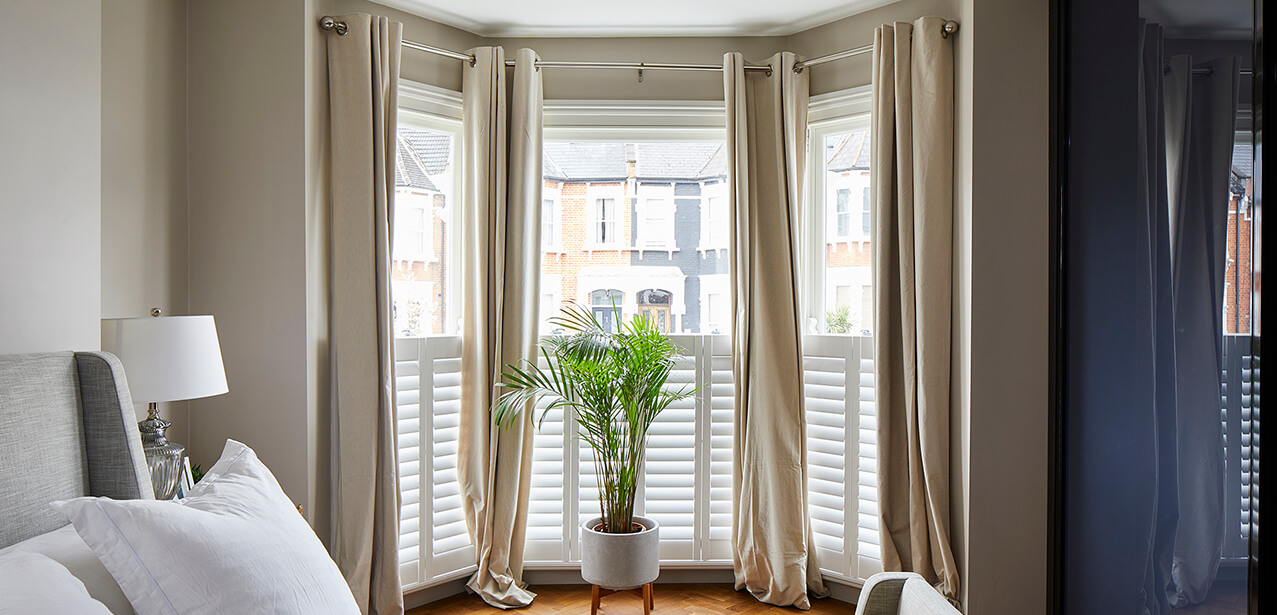 Different Types of Windows
All these necessary portions are considered especially in designing the interior of the house. But more often than not, windows draw the most attention because windows can be designed in various ways to suit the needs and preferences of the house owners. There are windows that can be effortlessly opened, and there are also those that permit a scenic view. Below are different window designs that can be customized to be a perfect fit for your interior:
Awning Windows. This window type is typically seen above doors because it is hinged on top and opened outward by using a crank. It lets in air without letting in other external elements such as light rain, snow or falling leaves. Other than being used to accentuate doors, awning windows are also used in combination with other window types to provide a polished effect in the house's interior.
Casement Windows. In a similar manner with an awning window type, a casement window also opens outward. However, instead of being hinged on top, casement windows are typically hinged on the side. It also provides a wide ventilation area because it allows air in from top to bottom. Casement windows are usually seen on top of kitchen sinks because aside from highlighting the kitchen interior, this window type is the easiest to clean. Casement windows are also the primary option for rooms that will be used as a home office because this window type can effectively be sealed to block external noise.
Single-hung Windows. A single-hung window can be opened by sliding its bottom sash upward, with the top sash fixed. It is not obtrusive because it opens and closes without a protruding portion. Hence, it is a perfect window option for the portion of the house that is near a walkway such as a garden path or poolside. It is effortless to clean the interior and exterior of this window type even from the inside.
Double-hung Windows. Like a single-hung window, double-hung windows do not have a protruding portion. The main difference between a single-hung and double-hung window is that both the upper and lower sashes of double-hung windows are moveable, which can slide up or down. Since both of its sashes are movable, it allows for a better ventilation. Double-hung windows have the classic decorative look, which makes it a great accessory in most rooms.
Picture Windows. Picture windows cannot be opened, so contrary to the main functionality of a window, this window type does not permit an open air ventilation, making it less prone to leakage. Conversely, this window type is used to frame scenic views from particular rooms such as the master bedroom. Even if this window type hinders an open air, it is an excellent source or natural light.
Bay Windows. Bay windows are incorporated into the space projecting outward from the main walls. It tends to maximize the use of small spaces that can be used as a reading or breakfast nooks. Nonetheless, bay windows allow more natural light and ventilation, while keeping the look and feel classy and elegant. This window type can usually be found in living rooms.
Jalousie Windows. This window type is perfect for tropical areas where it is usually warm. Like casement windows, jalousie windows also allow air to flow through its entire window area. Jalousie windows can either be made of wood or glass with metal clips on both ends of each slat. As a result, a number of slats can be closed or opened in unison. A drawback of this type of window, however, is that it provides a narrow view.
Gliding Windows. To open and let fresh air in, the windows slide sideways. Gliding windows are more energy efficient because apart from ventilation, it also tends to allow more natural light. This window type is perfectly used as an entry way to a balcony, offering a clear scenic view. Additionally, a gliding window is used on top of basement walls because of its large openings, without protruding portions. The only mechanical part of a gliding window is its lock, thereby, this is considered the cheapest window type.
Clerestory Windows. Clerestory windows can be one large window or a bunch of small windows grouped together, forming a pattern that accentuates the roof or ceiling. This type of window is an excellent source of natural light, with a minimal use of wall space, thus it is typically found in living rooms with high ceilings.
Window Walls. The most lavish type of windows can be considered window walls. Window walls maximize the use of natural light, and at the same time paves the way to scenic views. Window walls expand from the floor to the ceiling and are typically found on the side of a mezzanine, stairway, or hallway.
Interior window designs, however, will not be complete without appropriate drapes or shutters. While windows provide illumination, it is still best if we can control the amount of light that can come through. The best way to do so is to use drapes or shutters to fully allow as much light to enter as possible or restrict it to a bare minimum. There is always a question of which is more appropriate, hence the list below cites both the advantages and disadvantages of using drapes or shutters.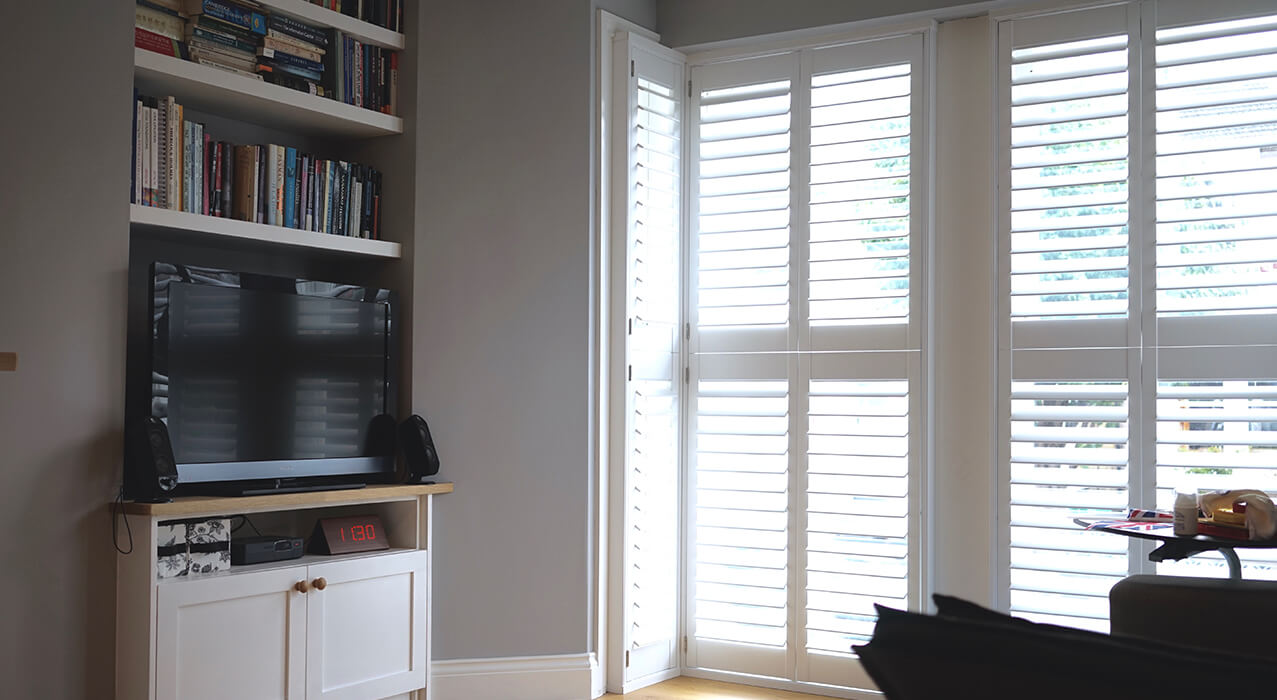 Drapes and Curtains
Light. Drapes and curtains can allow full light to enter a room, without obscuring the outside view or segment it depending on the degree that these are open or closed.
Privacy. While windows are designed to let in light, drapes and curtains can protect the privacy of the people inside. It is easier to open or close drapes and curtains, especially those that come with side-pull cords.
Materials. Drapes run all the way from the curtain rod to the floor. This embodies an interior of class and elegance. Curtains on the other hand have sufficient length that covers the window. The designs of the drapes and curtains are normally cohesive with the entire room theme, be it minimalistic or modern, to soft and cozy.
Maintenance. Typically, drapes need to be washed twice yearly to maintain their shape while curtains can be machine-washed more frequently. Their durability depends on external factors such as sun exposure and climate conditions.
Energy Efficiency. Drapes and curtains tend to be more effective insulators against extreme cold or breathers during hot summers because certain drapes have a thermal lining.
Shutters and Blinds
Light. Shutters and blinds can also allow full light to enter the room, and at the same time obscure the view especially when the view is unattractive. These can also filter light depending on the tilt of their louvers.
Privacy. Also offer the same privacy as drapes and curtains. However, it might be more difficult to open and close the blinds, especially those that come with complicated latches.
Materials. Shutters and blinds are made of a variety of materials that can either come as expensive or within budget. Some come in DIY packages, making it easy to install. On the other hand, there are made-to-order shutter and blinds that need the help of professionals to be set up.
Maintenance. Normally last for years with only frequent dusting needed. However, depending on its exposure to sun, air, and other environmental factors, there might be instances wherein they need to be replaced even under a year.
Energy Efficiency. Shutters and blinds also offer great insulation because they fit the windows perfectly, with a study that shows that these can even double the insulating capacity of the windows.
Nonetheless, the window types cited above can be used alone or in combination with other window types to generate an interior look that better suits the preferences of the owner while maintaining a room's ventilation and maximizing natural light and energy. Additionally, drapes, curtains, shutters, or blinds can be used to put emphasis on the windows while heightening the window features. You might come across shutters from Shuttercraft shutters for interior windows, with a wide variety of designs of shutters and blinds that can be suitable for a variety of room themes. Different window types provide the impression of more room space, depending on their structure and design, such as the bay windows. Loft areas also offer more room space, and there are also specific window types perfect for loft areas.
Loft Conversion
Apart from generating more space, a conversion of a loft area adds value to a property. It could be a great investment to convert a loft. However, there are various considerations that need to be factored in a loft conversion, and one of these is the access to natural light using appropriate windows with curtains or shutters.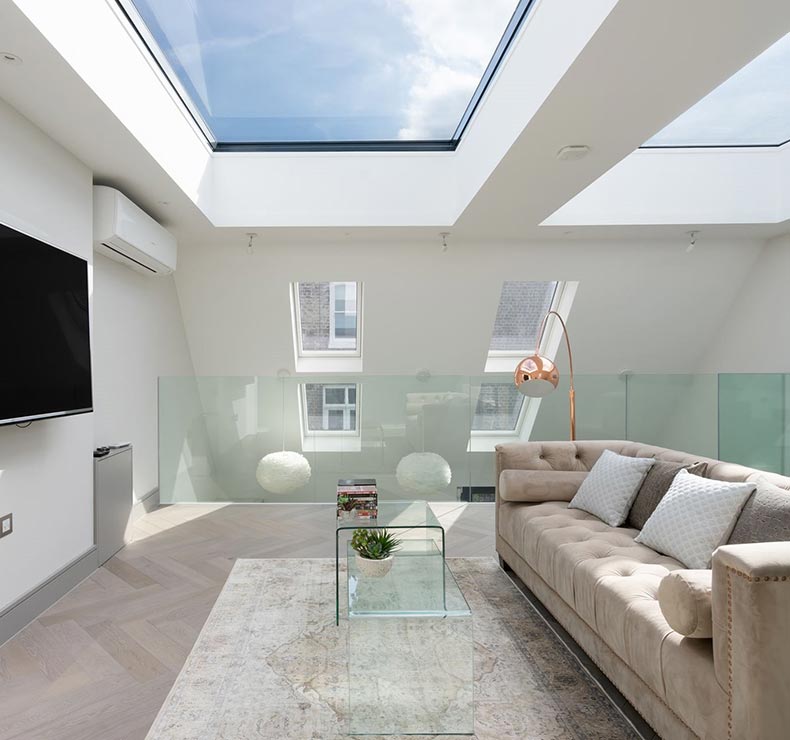 Loft Conversion Windows
Loft gable end - As its name implies, gable end windows are mounted towards the end of the vertical wall of a loft area. It provides sufficient lighting to a loft area such as an attic, making it energy efficient. It has various designs that can portray elegance and class in the loft.
Loft dormer - Dormer windows are like mini-houses because these have walls and a roof of their own, which is why these are also known as roof windows. These are typically positioned vertically on the sloped roof of houses, bringing illumination to a certain roof space, such as an attic. But not only are dormer windows efficient for interior areas under the roof, these are also perfect in bringing balance to a house's exterior. A mansard type of dormer window will maximize the usage of the roof space because it generates a larger floor area due to its head height. It is characterized by the two slopes of a mansard roof. A hip to gable dormer type window on the other hand is characterized by a lacking side roof, but in the same manner, it offers sufficient headroom.
Roof-lights - Velux or roof lights are windows on the slope of the roof in a loft area such as the attic. Rooflights permit the use of direct sunlight in the morning as the natural source of illumination. In the evening, rooflight windows pave the way for the perfect star gazing spot.
Overall, having an area in the house converted into a loft is a great way to create more space and room. A loft area can be used as a home office, with the current trend that more and more people prefer to work from home, thanks to the advancement in technology and the birth of virtual solutions. A loft area will still allow you to set a boundary between your "office" and your "home", especially if the loft area is the attic. In other instances, a loft area can function as a master suite or a kid's bedroom, especially for growing families, where extending the house to construct another room is no longer feasible. A loft area can also function as a guest bedroom intended for sleep overs or extended family members visiting over the weekend. Finally, a loft area can be your happy place, the place where you can relax and read a book, practice yoga, or simply drown in your thoughts while staring at the vast sky.