7 Loft Conversion Furniture ideas
Some of the most beautiful rooms are found in the loft; the amount of light coming in, and the small size makes it possible to create a magnificent interior without having to spend too much money.
The first thing you need to do is decide on the purpose of the roof space conversions. Will it be a bedroom, an office, a storage area or a secret hiding spot for your little ones? It is important to understand what kind of furniture you need and which pieces of furniture to factor into space before you start work. It is also necessary to visualize where the pieces will be placed to consider the size.
Loft conversions can be really useful as they can increase the value of the house immensely. If you have a two-bedroom and decide to turn your loft into another bedroom, you've automatically raised the value of your property to a 3-bedroom house.
It's all about utilizing the space and getting the right furniture to fit the small area without making it feel too cluttered. If you're looking to make use of your loft and transform it into another room, here are some cool tips to consider when furnishing your loft.
1. Sofa bed
If you're deciding on turning your loft into a bedroom, but the space is too small, a great idea is using a sofa bed. Using sofa beds can save both money and space as you're buying one piece of furniture that serves two different functions. A corner sofa bed can even utilize the space, even better, as it makes use of the unused corners. Some sofa beds can also come with built-in storage for pajamas, too. There is also smaller sized furniture for loft conversion bedrooms such as chair-sofas, where the chair transforms into a narrow single bed or just a one-seater.
2. Multi-functional furniture
When thinking of suitable furniture for loft room conversion, due to the limited space, it is essential to use multi-functional items with more than one purpose. You can use a desk as a night-stand or an ottoman that opens and allows storage to be placed inside it. There are even many beds that have drawers coming out from beneath them and allow shoes, clothes or even books to be placed comfortably while saving a lot of space in the room for other things that can be placed.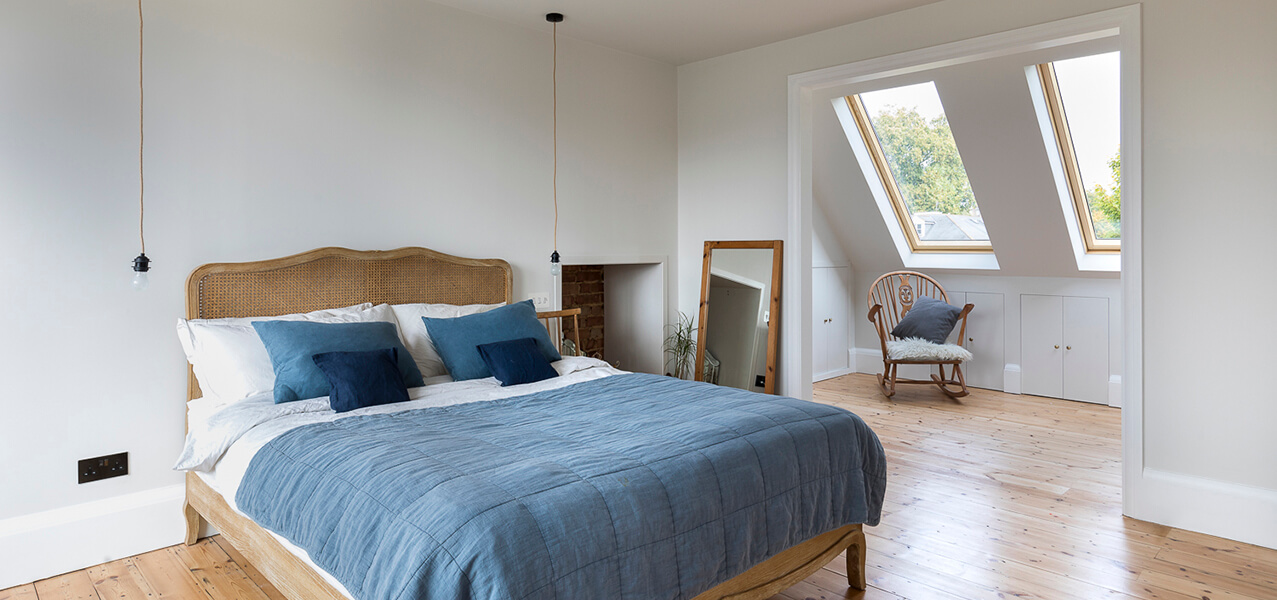 3. Use upcycled furniture
One of the best ways to convert an attic into a cool area is by using upcycled pieces for your loft room furniture. Instead of buying new pieces and having to customize sizes according to your space, you can use unwanted or unused items from your home to not only create the necessary furniture pieces for your attic, but also to give it a modern, cool uniqueness that will make whoever gets the loft conversion room excited to show it off.
4. Folding-wall beds
Another option instead of sofa beds are beds that can easily disappear and give you the option to use the entire room by folding into the wall. They are very easy to open and close and free so much space that the loft itself and can be multi-functional in its uses. It can be a workspace or living room by day and easily transform into a bedroom at night with just a simple step. Having options like these would be perfect for a teenager who wants to have their own space, but doesn't want the room to be too cramped all the time. Or even if it's just a guest room, it can be used as a living room where anyone can go to enjoy the sunlight filling up the room, but allows a bed to be available when guests come over for the holidays.
5. Transforming tables
Using space efficiently is crucial when deciding on loft conversion furniture. With barely enough room for tables, transforming tables can be quite the space-saver. Having a small 2-4 seating table will be a great way to utilize the space, but what happens when you need to seat more people?
A transforming table can grow in size and extend to be able to provide more seats when necessary. Once the guests have left, the table can be transformed back into small-sized item it used to be and not take up too much space in the room. Isn't that a great piece of furniture for loft conversions?
6. Colors
When choosing the colors for your loft room furniture, it is important to go for light colors. Light-colored walls and furniture, along with the natural light entering the room, can give a loft the illusion that it is a whole lot bigger than it is. That is because pale colors reflect the light and can help open up space, expanding the surface area in your head, even if it doesn't in reality. Always opt for lighter colors to enhance the space and give you more creativity when it comes to decorating.
7. Choose a theme
When designing a loft conversion, a great way to start is by sticking to a theme. You can choose a modern theme with a sleek, straight, simple design or opt for a Victorian theme where the entire furniture will have a certain Victorian touch to it giving it a majestic feeling for anyone who enters. When the furniture matches together, it creates an overall atmosphere that will make the loft conversion feel a whole lot more homey and comfortable. Sometimes, it will even be more practical to get the loft furniture to be customized with all the extra storage options already fitted into the design process making it handy, neat and efficient.
Loft conversions can not only be an extra room added to the value of a house, but can be transformed into a personal sanctuary that is used to escape the world when necessary. Having the right furniture can make it feel completely secluded and a perfect getaway to just sit back and relax.