What is the best type of roof insulation material
If you're looking to save yourself from those spiking utility bills, you'd probably want to consider the option of insulating your home. Not only will you get to save money, but you'll also get to save on energy. Whether you intend to use natural wool or fibreglass, insulating your roof comes with benefits that you get to enjoy all year long. With the right insulation material, you'll be able to control any condensation and temperature fluctuations.
Choosing the best roof insulation material
When it comes to roof insulation material, there's a variety to choose from. All you need is the right builder to help you install the insulation. Usually, the insulating material is placed over and between the loft joists or you can place rigid insulation boards between rafters. Some of the different types of insulation you can opt for your loft extensions include the following:
Sheet insulation
Blanket insulation
Blown-fibre insulation
Loose-fill insulation
Sheet insulation
Sheet insulation comes as either a natural or synthetic material firm board that is suitable for the sloping side of the roof. Aside from being fire-resistant and moisture-resistant, this type of insulation is also made attractive using decorative covering.
Its resistant properties make the insulation material easy to treat. Although the sheet insulation is more costly than the other types, its performance is better than the others making it worth every penny.
Blanket insulation
Also known as batt, the blanket insulation happens to be the most common type of insulation for lofts. It comes as rolls of foam-backed glass, mineral fibre, rock, felt or even sheep's wool. The roof insulation is also relatively easy to install but it's important to note that it's not easy to install it in small spaces.
Although the material is easy to install without the need to hire professionals, you'll need to wear protective gear since some of the materials are irritable to the skin. The one that comes as foam-backed sheep's wool is more costly but also less irritant on the skin.
Blown-fibre insulation
With this type of loft insulation, you'll need to hire a professional to do it. It is easy to install when done by a professional as it only involves blowing the insulation between joists. Less time is taken to install the blown-fibre insulation as compared to the other types since it's lighter and easier to handle.
A downside of this material for insulating a loft is that it can be more expensive than the other types. Also it's not the best choice for draughty lofts.
Loose-fill insulation
The loose-fill insulation is made from more lightweight materials ranging from recycled newspaper, mineral wool, cork granules or cellulose fibres. It is perfect for installation in small and awkward spaces since the granules are small and installing them is relatively easy.
It is also less time consuming to use this material insulating the loft roof since it doesn't involve cutting of rolls. You should also note that protective clothing is necessary when installing them.
Using SPF insulation
The spray foam insulation (SPF) is gotten by mixing unique liquid components that react to form the foam. The insulation material is better than other materials such as cellulose and fiberglass.
As much as the SPF roof loft insulation is more costly, it tends to be more durable and highly effective. Apart from being suitable for filling irregular spaces, it also forms a great air sealing barrier on the seams, joints, walls,and cracks.
These are just some of the common options of insulation for loft buildings that can be used. The type of roof for your loft conversion plays an important role in determining the insulation materials that will be more suitable. Whether it's a pitched roof or flat roof, your builder should be able to know the suitable option.
Our design and build specialists use their expertise and craftsmanship in deciding the best loft insulation option for your loft space.
One good example is the completed loft conversion project in Twickenham. Other than ensuring the project was successfully completed, the team ensured that it was done to a high spec.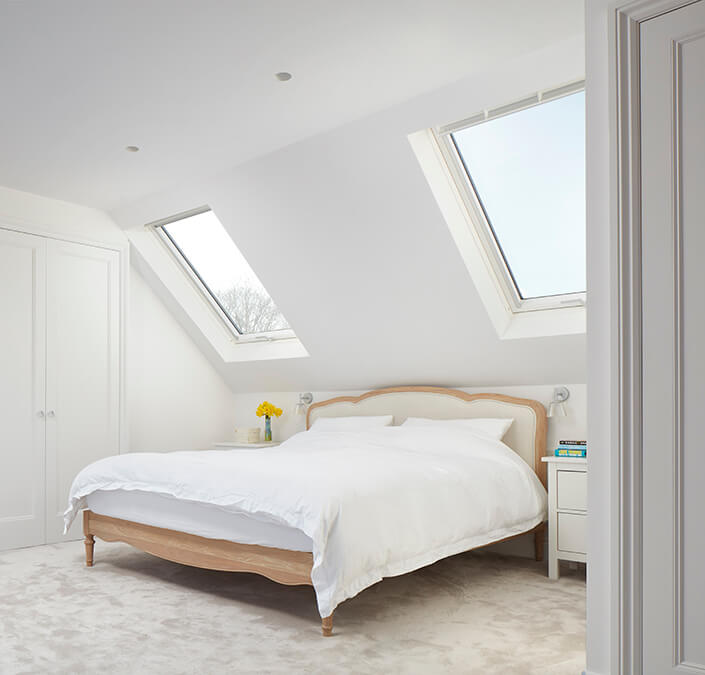 How much does a roof loft insulation cost
How much does a roof loft insulation cost?
The type of material used for insulation
The thickness of the insulation material
The type of roof for the structure
The size of the roof
The ease of access for the surface
These are just some of the various factors that will be useful in determining the cost of your roof insulation. Usually, insulating a pitched roof is less costly compared to insulating a flat roof. Reducing your energy bills and carbon print are some of the advantages of insulating your home, making it a worthwhile investment.
If you're having a loft conversion your builder might decide to include this cost in the overall loft extensions cost. To avoid any confusion or misunderstanding that may arise, it's advisable to seek clarity from your contractor. You should be given a detailed and comprehensive quote.
With the Proficiency team, you get to work with a team of experts that have the expertise to handle your project from start to finish. So, whether you're planning on having a loft conversion, extension, renovation or even a new build, with our team, the type of roofing insulation should be the least of your worries.