Loft conversion bedroom ideas
For every homeowner who has or is looking to have a loft conversion on their property, the main goal is either to improve the value or get that additional space needed. It could be a kitchen extension, home lounge, an office, an orangery, or even an extra bedroom. We shall have a look at some of the loft conversion bedroom ideas that you can consider for your home.
If you have your loft conversion space ready or you are in the process of having one, it's only logical that you find the most suitable design for your bedroom. It is at this point that you get to decide how your bedroom will look upon completion of the whole process.
With the design and build services we offer, not only do you get a team of experienced builders to handle your project, but you also get access to qualified interior designers.
The bedroom happens to be the place where you get to relax and unwind after a long and stressful day. This brings about the need to have a comfortable and calming space. After all, everyone does appreciate some peaceful sleep in a conducive room.
Whether your loft convert design is a dormer loft, hip to gable, Velux, or mansard, there is still a bedroom loft conversion idea that will help you make the most of your living space. It is important to also note that you should figure out the design at the initial stage of the project.
Choosing the best bedroom loft conversion design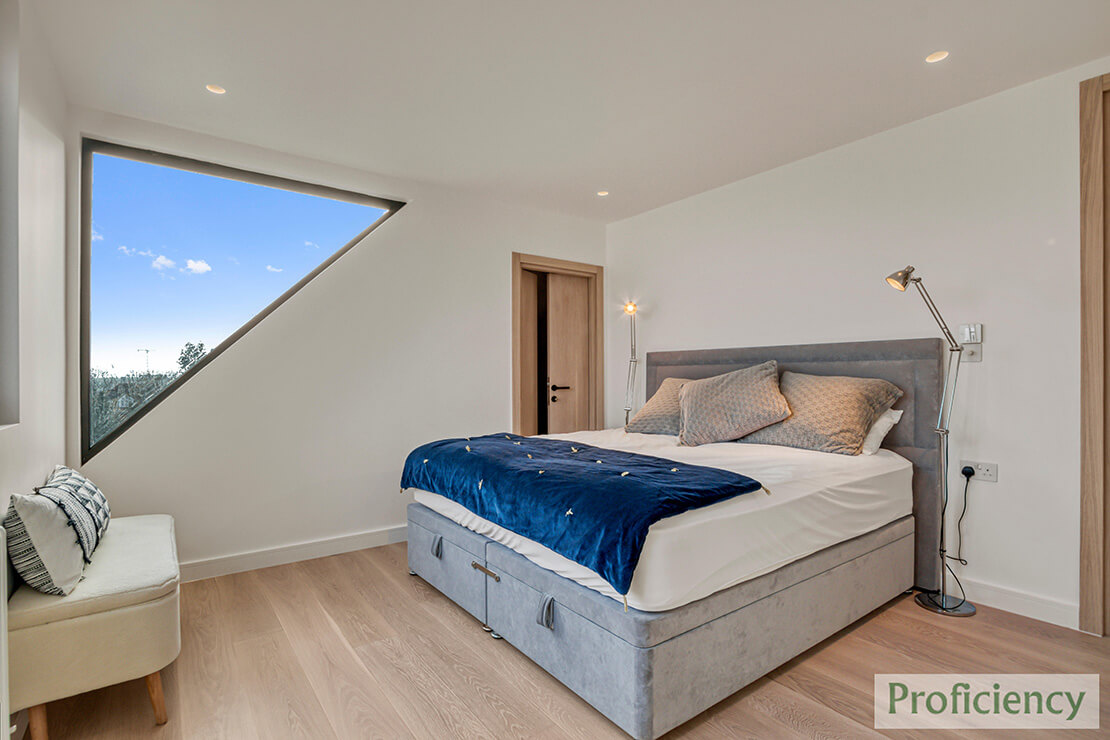 When choosing the right loft conversion bedroom ideas, it is important to select one that will not make your space look disoriented or cramped. It is also essential to design your London house extensions or loft bedroom, in this case, to reflect your style and preferences right from the beginning.
For you to make sure that every detail is on point, you have to ensure that things like furniture or wardrobe placement are correct. Other than buying the right furniture, you can use under eaves as storage as a way of making the most of your available space, especially for a low-pitched roof.
Having bespoke storage like wardrobes or custom-made furniture, in eaves is a great way to make the most of the space in a converted loft bedroom. The main idea here is to declutter the room completely.
If you want a light-filled bedroom loft, you can always opt for a modern design with skylights or Velux windows. With this idea, you'll be able to make the most of your loft conversion space. Also, depending on how big your loft conversion is, you can have an en suite loft bedroom.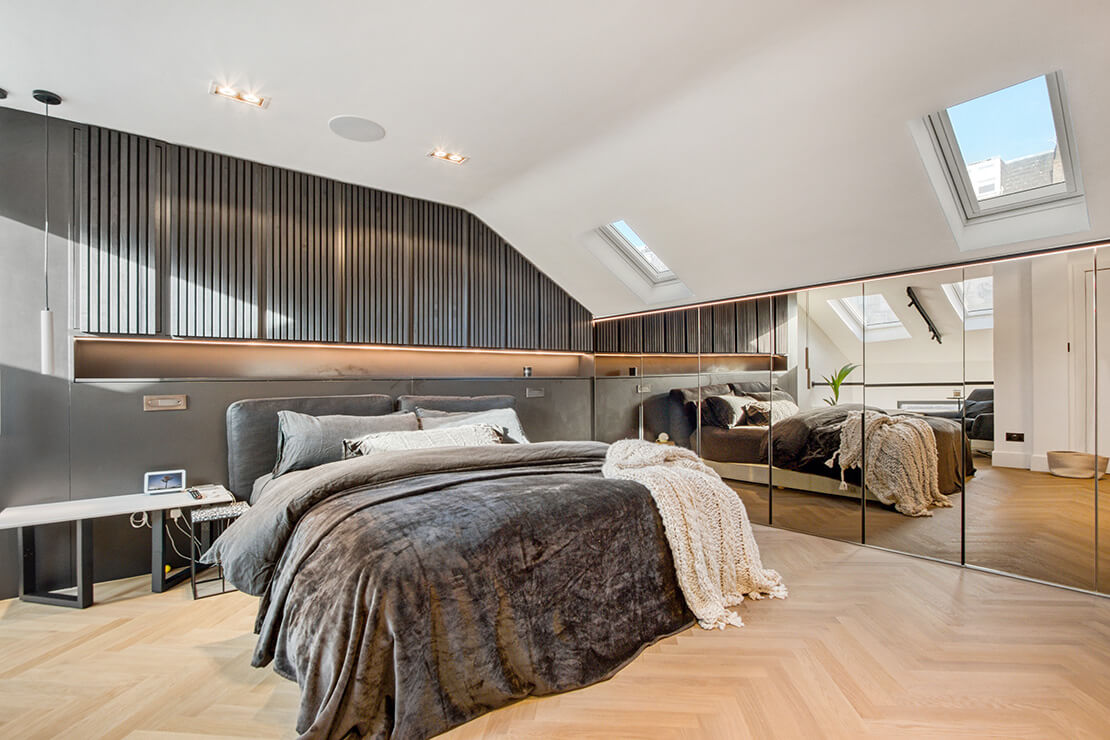 It is also important to have beautiful interiors for your bedroom. You want to have inviting items/furniture and wall colours in your loft conversion bedroom. Not only does this make the space attractive, but you also get to have a conducive sleeping space.
If the available space allows, you can always have a roof terrace or balcony for your loft conversion bedroom. Apart from enhancing the ventilation in the room, this will also allow the flow of light into the room.
Whenever you're thinking of an extension or a simple bedroom loft conversion, there are several things you should consider when choosing a suitable design. These include:
Your budget. Depending on what you'd like, it's advisable to go for an option that you can afford whenever you decide to convert a loft.
The roof height. The head height available really impacts the choice that you make.
The amount of space available. Usually, with a mansard loft, you're guaranteed of more space. This means that you can plan for a bigger loft bedroom, probably an en suite.
Furniture layout. This plays a very important role in determining the outcome of any loft conversion design ideas.
Insulation. For all loft conversions, insulation is one of the very crucial things one should consider. Be it heat or sound.
Ventilation. When you're thinking of converting a loft, this is one of the important things you should consider.
Listed above are just some of the things that have a significant impact on the choice you make. Others might include lighting, staircase placement, and so on. With the right guidance making a decision regarding the most suitable bedroom loft ideas won't be a problem.
Do you need planning permission to convert a loft into a bedroom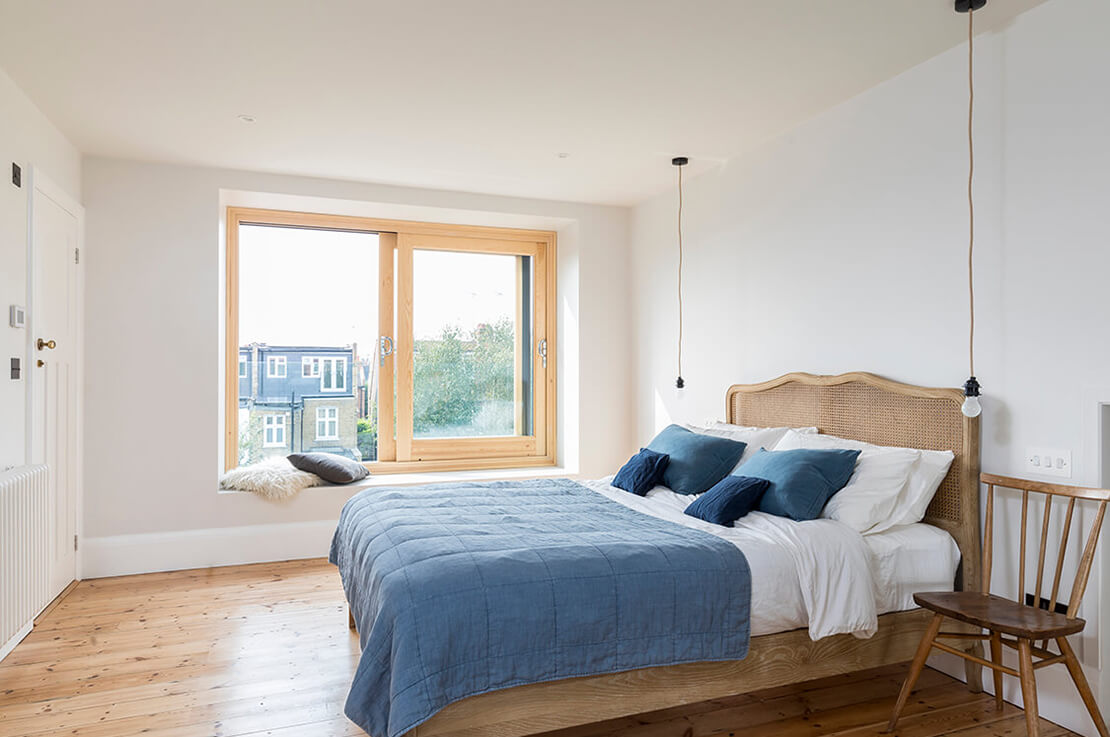 Most of the time, what you intend to use your loft conversion for doesn't really determine whether you'll be needing any planning permission. Especially considering the fact that most loft conversions fall under permitted development.
But one of the critical things you should have in mind is the adherence to building regulations. This will ensure that the structure is safely constructed.
Some of the things that will determine whether you'll be needing any planning permission include the location of your property or whether your plans will involve altering the roof shape or height.
For you to avoid any trouble while construction is underway, it is important to consult with your local authorities. This way, you will be able to determine whether your loft conversion falls under permitted development.
With the build and design services we offer, you get architect services where we produced detailed plans that can be used in the application of planning permission if necessary. There are also the building regulations plans which highlight the health and safety and ecological measures of the build.

How much does it cost to convert a loft into a bedroom
Apart from your budget, the size of your loft conversion is among the many things that determine its cost. Usually, a mansard loft tends to cost more because of the complex work it needs to be done.
That aside, your taste, your property, and your planning authority are also some of the things that will highly determine the cost of your loft conversion. When it comes to a loft conversion bedroom, the type of furniture and interior you want to have will also determine the cost.
With the various loft conversion bedroom ideas discussed, choosing the best option for your home won't be any trouble at all. You will also get a professional that will help you select an option that will suit your style, taste, and preference best.
You will also understand some of the important things you should have in mind when working on your bedroom loft conversion. With our loft conversion specialists, you'll have very little to worry about.