How to paint skirting boards without getting paint on the wall
One thing we can agree on is how hectic painting skirting boards can get. There's so much crawling and crouching involved when doing it, especially if you're looking to avoid getting the paint on the walls or even your carpet or floor. We shall have a look at how you can paint your skirting boards getting any paint on the walls and carpet too.
Before starting on the painting, it is essential to be well prepared. Ensure that you have everything that you'll need for the exercise. In cases where you're not the one doing the painting, you can always find property refurbishment companies that can do the task efficiently.
Preparing to paint skirting boards
As mentioned earlier getting your tools, paint and every other thing that you'll need when painting is important. You don't want to realize you don't have some of the things when the task is midway.
In order for you to avoid such inconveniences, some of the things you should have ready include the following:
Overalls or some old clothes
2" painting brush
Sugar soap solution and a piece of cloth
Some newspaper or dust sheet to protect your floor
Paint
Sandpaper
Masking tape or painter's tape
Other things you may need might vary depending on the amount of work that's required to be done. Once you have everything in place, your preparation should be easier.
Before you begin painting, you should ensure that you have adequate space. If there's any furniture near the area you're painting, it's advisable to move everything to the centre or to another room if the room is small.
Of course, we can't forget skirting boards as a primary requirement. You can always get a cheap skirting board supplier through proper sourcing. You should also make sure the skirting boards you're planning to use are clean and smooth whether it's an existing structure or a new building.
To achieve this, the boards need to be sanded using the sandpaper and properly cleaned using a piece of cloth and some soap solution.
Next, if there's any carpet, you can either pull it back to avoid any paint from spilling on it. You can also use either masking tape to protect your carpet. Simply ensure that your tape is tightly placed on the carpet covering the areas close to the skirting board.
This would also be applicable if you have tiled or wooden flooring. Another option you can use in place of the masking tape is the painter's tape. Most professionals prefer it because it doesn't damage the surface it's protecting, or leave any residue if removed within a certain timeframe.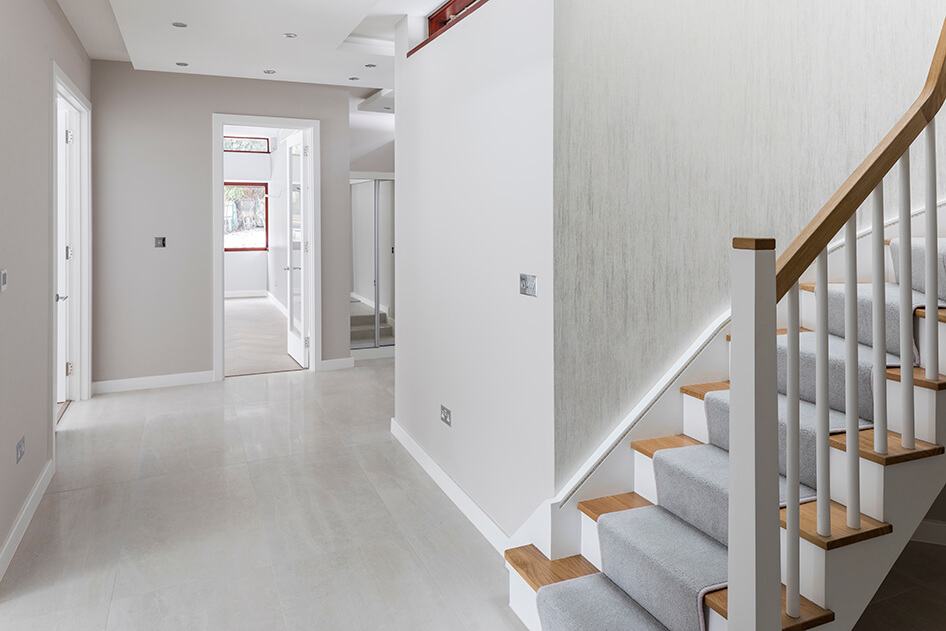 Painting skirting boards without messing up the walls
Whenever you're painting your skirting boards, the trick is to ensure you follow these steps to ensure that you do not get the paint on your wall:
Using masking tape or painter's tape
Using a paint shield
Cutting in
Using masking tape or painter's tape
This is a choice since the tape is placed where the paint is likely to touch the wall as you paint the skirting board. It is advised to use Low-tack masking tape due to the issue of leaving residue or the painter's tape which barely leaves any residue.
Using a paint shield
Whenever you're not cutting in or using the masking tape or painter's tape, a paint shield would do just fine. It allows you to have a surface between the skirting board and the wall hence preventing any paint from transferring to the wall or floor surface.
Cutting in
This technique might not be the easiest but it guarantees you a professional flawless finish. You can also apply the technique if you're looking to achieve straight lines. If you've properly mastered it, painting your skirting board a different colour from your wall won't be an issue at all.
Here, the secret lies in maintaining a steady hand and brushing softly. With light strokes you'll avoid any dripping of the paint. Avoid squeezing the brush on the surface. If you find this rather hectic, you can always settle for the previously discussed techniques.
Do you paint skirting walls first or walls?
One of the rules when it comes to interior decorating is that you should always start from the top to bottom with the paintwork. Therefore, it's advisable to start with the ceiling, walls, then the skirting board.
This way, if you were painting your walls a different colour from your skirting board, then there won't be any paint dripping.
Also, when choosing the colours, for your skirting board, it is important to note that darker colours give your space a more modern look whereas brighter colours simply make the room feel big.
Either way it would be suitable to match your skirting board colour to the tone of your walls. After all, you don't want to have a room that's looking out of place.
Alternatively, you can always hire a professional designer to do the job for you. You'll get to spare yourself the trouble of thinking about the matching tones and what not. You also won't have to worry about getting the desired high end interior design as there'll be an expert worrying about that.