New Construction Cleaning Checklist & Tips
---
All new construction sites have one thing in common—when they are completed, a huge mess is left behind by the construction companies, technicians, plumbers, landscape crew, and even by furniture store delivery. Whether it is a renovated home or a brand-new house, it needs to be cleaned thoroughly. This will benefit owners in two main ways: They can move in immediately, and they will be able to notice the professional details they have asked for.
There are many things that need to be cleaned in a new construction site. Some people prefer hiring an expert to deep clean the site, which is always a good, efficient idea. However, in any case, here is a cleaning checklist to ensure you or your cleaning service are covering all the important aspects after construction is finished.
Bathrooms
Deep cleaning bathrooms may not be as easy as a room, you will need some extra tools and products to wipe clean and disinfect your bathrooms. A squeegee-to remove extra moisture from walls and floors, a toilet brush-to clean the inside of toilets; you can also use wd40 for cleaning to remove any brownish or greenish water stains and loosen up any sticky surface before scrubbing the surface off. It's the ideal multi-surface cleaner to bring back the sparkle of the newly installed faucets and marble. At last, wipe everything using a disinfectant solution.
Other cleaning techniques and tips you shouldn't overlook after construction
Dust shelves, windowsills, window tracks, door frames, doors, and all light and electric switches.
Disinfect toilet seats, sinks, faucets, bathtubs, countertops, and cabinets from the inside and outside.
Remove trash outside the house
Vacuum and mop floors and wipe walls to leave the bathroom looking shiny and smelling awesome.
Kitchens
Cleaning after kitchen extension is more or less the same as bathroom cleaning. So, you will start by removing stickers once more.
Dust all kitchen cabinets and countertops.
Remove items from cabinets and drawers to dust and sanitize them before using them.
Combine any user manuals, warranty certificates, and extra parts of sinks, faucets, the fridge, the oven, or dishwashers in a place you can remember for future reference.
Clean and polish appliances according to the manufacturer's guidelines.
Take out the trash and mop floors and kitchen backsplash.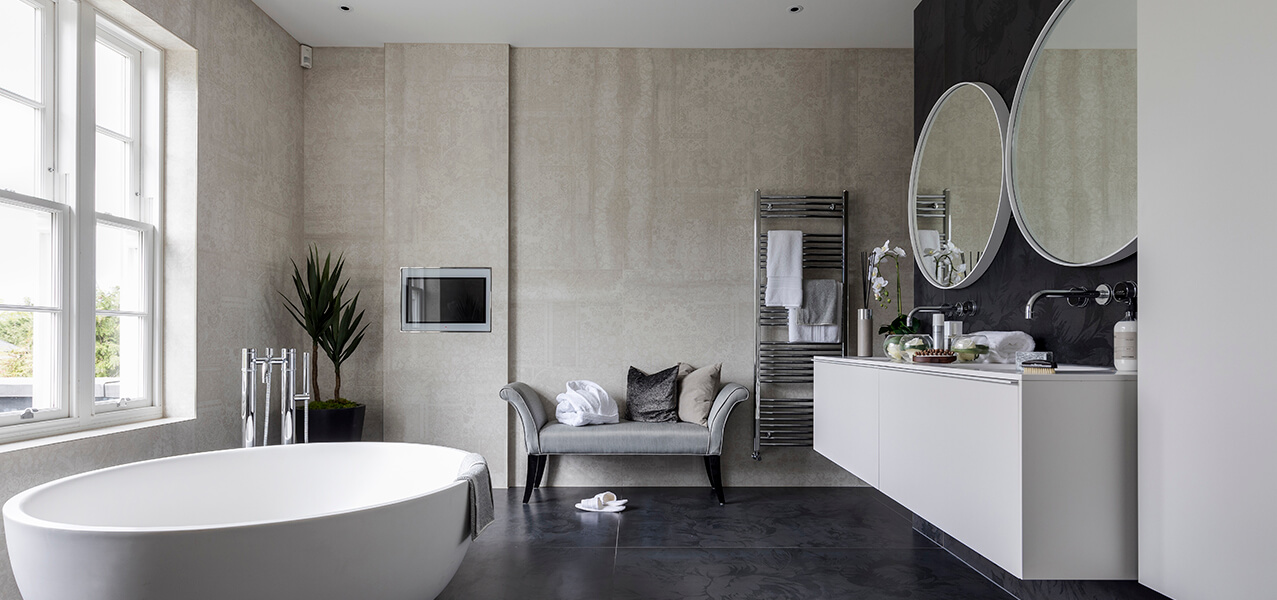 Rooms
Look out for painter's tape, masking tape, labels, and stickers; remove these and wipe their places well.
Most probably you will need a wooden or leather polish spray to have shiny surfaces all over the room. Make sure you or the cleaning company are using the right products for the right materials inside the room.
Vacuum heating, ventilation, and air conditioning vents as well as floors and carpets. Don't hesitate to vacuum the furniture itself, with a clean vacuum head of course.
Wipe down vent grills, door trims, crown molding, and window trim and sills.
Clean all lighting fixtures, hidden lights, and spotlights. Do not forget to install the right bulb with a temperature that fits the room.
Remove any paint, mud, and debris from hinges, electrical switches, or outlets.
Again, remove the trash, and mop floors as well as floor edges.
The Exterior & Garage
Wipe clean the furnace, water heaters, and any other utilities.
Pressure wash the driveway, deck, and porch to remove dust, mud, or any residue.
Clean house numbers and mailbox/mail slot
New construction cleaning is very important to deliver professional results, ensure the safety of homeowners from punctured tires due to nails or asthma flare-up due to excessive dust. Cleaning can also highlight any finishing or construction problems before they get complicated.
Follow these new construction cleaning tips and you will be in safe hands.