Staircase refurbishment cost in UK
Staircase refurbishment costs in the UK can start from £2000 upward. If you are looking to delve into staircase renovation and have no idea what your expected expenditure might total to, then the task might be daunting. This is why the most common question asked to experts in this field is, 'How much does a staircase refurbishment cost ?"
The staircase renovation cost on an existing staircase may vary depending on a number of items such as the period property, the size of the landing, the staircase material, the size and layout of the staircase, the number of new posts, and total turns and whether the staircase is open all sides or built against a wall. The choice of the client to have an individual staircase design will also have an impact on the labour costs and renovation price.
What you should expect to pay for an average staircase renovation.
Carpenter (per day)- £200
Decorator and painter (per day)- £190
New bannisters/handrail (per project)- £80
New spindles (per project)- £90
Carpet for a single straight staircase (installation)- £87.50
Carpet (material per m2)- £18.50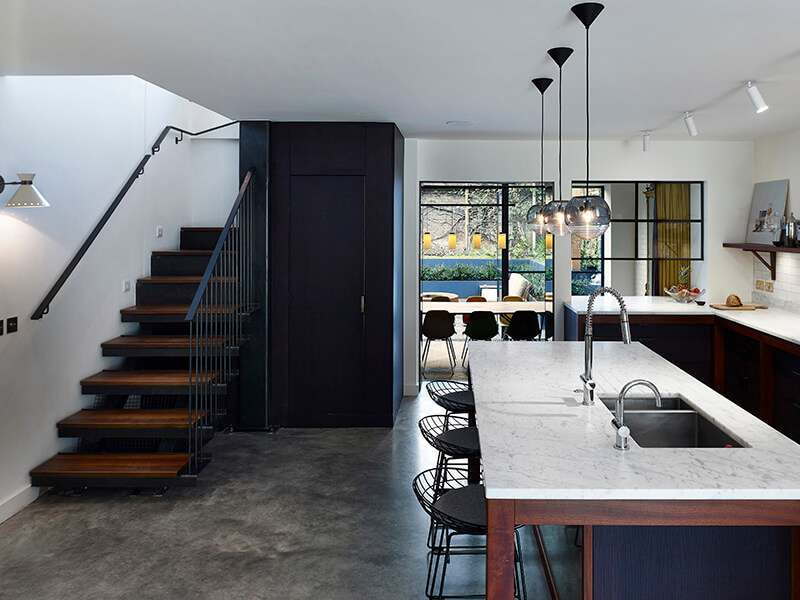 Staircase building regulations
According to UK building regulations, your staircase has to meet a certain set of standards. These include:
Maximum rise of 220 mm.
Maximum tread width of 220 mm.
42° maximum pitch.
Bannisters less than 100 mm apart.
At least 2000 mm above the pitch line for clear headspace.
Planning to renovation a house too? Get a Qoute
When should you replace your stairs
If you happen to notice some serious structural issues on your old staircase or realize that your stairs are in an unsafe or poor condition, then the best option for you would be to replace the staircase rather than refurbish it. However, an inspection by a staircase specialist is advised before making such a call.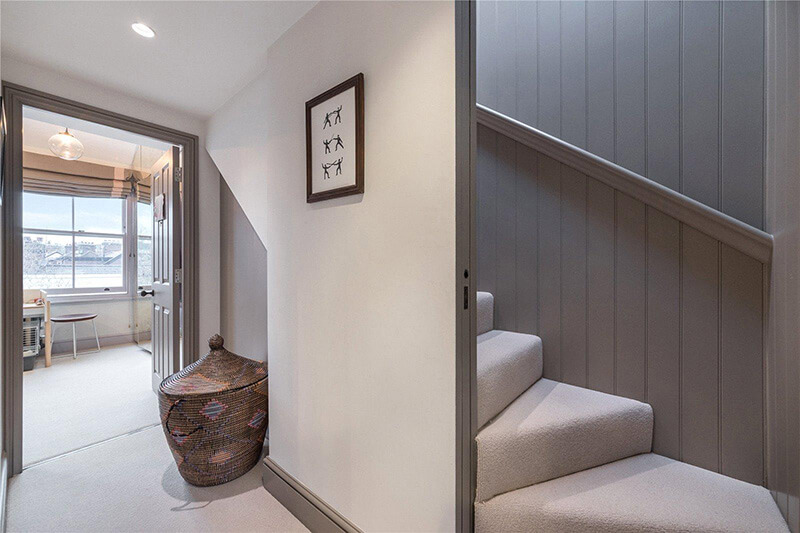 Should you refurbish your stairs yourself
A staircase refurbishment job is one that will most of the time require the use of specialist tools, skills, and experience. This implies that unless you have the right skill set, it would be best to leave it to an expert. There are some jobs, however, that you can tackle depending on your DIY skills and abilities. Here are a few of these tasks.
Painting staircases
If you are looking to improve the aesthetic appeal of your property and add a touch of modernization, then adding a lick of paint might just do the trick for you. Ensure that you have thoroughly sanded down the surfaces to remove any existing varnish or paint first.
Loose threads or risers
Ensure to consult with a professional about any loose and worn treads or risers if you are not a trained carpenter or joiner. This is just so that you can be assured of the safety of your staircase. Once the repairs have been completed then you can now decide on whatever finishing touches you might require for your staircase design.
Stair cladding
If you prefer a wooden finish to a carpeted one, then stair cladding is the option for you. It is aesthetically pleasing and offers a great cosmetic solution for worn-out treads and risers. Cladding does a total transformation of your staircase without the need for replacing the entire unit.
Although there's the option of doing some of the work as DIY, it's advisable to hire a professional if you want to avoid any disappointment or additional costs. By knowing some of the costs you're likely to incur for a replacement staircase, you can start budgeting for the project. It's also ideal to get quotes from other local tradespeople.