How to Plan a Kitchen Renovation and Extension
---
Extending your kitchen can absolutely transform your home and substantially increase its value. Successful renovations depend on detailed planning, having the right professionals to help you, and extensive budgeting. A few of the most practical bits of planning a kitchen extension are getting planning permission and appointing the right architect or builder.
To start off, the amount of space needed for your extension will fully depend on what you're going to use it for. If the extension is too big or too small, none of it will make sense as there will be tight or dead spaces. Either way, it won't be an ideal asset for your property. As we all know, the kitchen is simply the heart of the house where families get to cook, eat, socialize, bond, and relax, which means an open-plan space is always best when it comes to house extensions.
Now, there are a few things to consider when planning a kitchen extension, read along to find out.
List down your goals
While this may seem a little self-explanatory, it's always a great idea to make a list of goals you want to accomplish for your renovation or extension as opposed to just saying you need more space. Note down specifics, do you need counter space to bake bread and decorate some cake? Do you want more space and light to come in for your plants to live? Do you need more storage for your pantry? Yes, these matters most than just generally needing more space to lessen "kitchen traffic". When you have all the specifics, you can then go ahead and start working on achieving your kitchen goals.
List down the appliances you already have
Listing down the appliances already available in your kitchen will help you narrow down what needs to be improved, added or extended. Do you already have a dishwasher and do you need to add another one? Do you already have a double sink? How big is your refrigerator and oven? Also, keep in mind that noting down the measurements of spaces and fixtures throughout the extension process will help you make decisions better and will prevent you from having to do expensive changes in plans due to bad fits.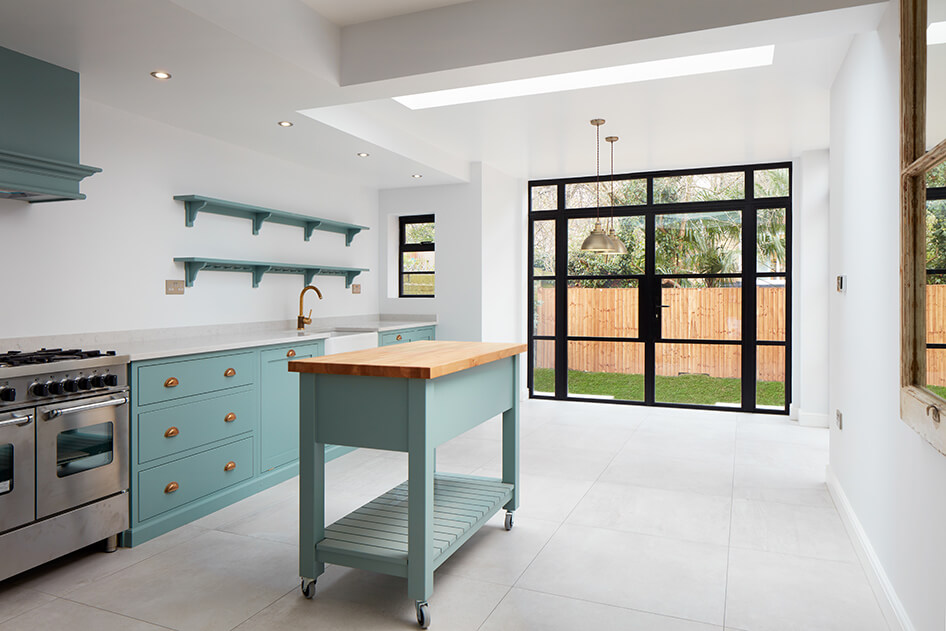 Consider smokeless alternatives
It's best to consider griller and other cookware that uses electricity instead of smoke and heat, which is usually bad for your home and health, anyway. With electric smokers gaining popularity, it shouldn't be hard to find the one that best fits your home. These kinds of appliances not only are generally better for your home health, but are also great for cooking and grilling safely and conveniently. No need for gas or fuel!
Find a good architect
This, by far, is one of the most important, but perplexing decisions you have to make in order to get the most out of your kitchen extension. It's best to hire someone who specializes in homeowner projects and try to have them do a small amount of paid work as a sketch design in order to see if there's a good fit. You know what they say, "always trust the professionals".
Get contractor quotes
Once everything is almost set, go ahead and try to arrange meetings with at least three refurbishment companies in London and send them the plans, construction drawings and specification documents, plus the contract you want to use, in order for them to obtain estimates and quote as accurately as possible. If you have family or friends that have recommended a few contractors to you, try considering them too.
Think of the theme
Now that all has been set, it's time for the fun parts. To start off, color scheme. What kind of mood are you going for? Do you want an island-themed kitchen with tropical colors? How about a minimalist theme with neutral colors with a dash of one bold color? It's entirely up to you, just make sure they all work out with each other to avoid noise!
Next, interior design. Planning your kitchen's new appliances, furniture, and other interiors are probably the best part thus far. This is where you can let your ideas flow and allow you to spill out those creative juices. And while you're at it, make sure that you utilize your space carefully to avoid any kind of disruption to the entire design of your kitchen.
Planning for a kitchen extension can sometimes be onerous and perplexing, but then it always reaps beautiful outcomes. Aside from having more space, you get to make the most out of your home, and when you feel that it's time to move to another one, always remember that the investment you made for your kitchen renovation and extension definitely upped its market value.