7 Luxurious Bathroom Remodeling Ideas
Since this room occupies so much of your time, we have compiled seven luxurious ideas to transform your bathroom into a place you will not only enjoy but will also match the designs of your home. If you have some ideas regarding the new style of your home and want to update your wet areas, you can find experts to help you decide what works! There are tips to make use of the space you have, so your bathroom wouldn't become cluttered and would have that glamorous look that spruces up your me-time.
Here are seven tips you should consider when remodeling your bathroom.
1. Purchase a Sunken Bathtub
A platform that is built with steps is a fine choice for a luxurious and modern bathroom. These bathrooms are sunken to the ground of the floor, so they are deeper and more spacious. Incorporating this to your bathroom will elevate your bubble baths and help you relax, as you will feel closer to the group. The lower the bathtub is, the more spacious the bathroom will appear.
2. Place Ambient Lighting
Nothing says relaxation like some ambient lighting. While bathrooms serve many purposes, spotlights are not enough; yes, you need to have bright lights when checking out your complexion, but bright lighting does not scream luxury. If you have the time, it's best to opt for different light shades for different occasions. Bubble baths just don't quite live up to the standard without some ambient lighting to set a soothing tone.
3. Twin Sinks
If you want to go all out and provide a more personal touch, then opt for his and hers basins. This option is great if you have limited space in your home and cannot provide an extra bathroom. To personify the room, you can have your own areas to avoid clutter. You wouldn't want to get your toiletries mixed up, so this is pretty much one less argument! Twin sinks end the battle during the morning rush to get ready for work. Accommodate this into your new design and be proud!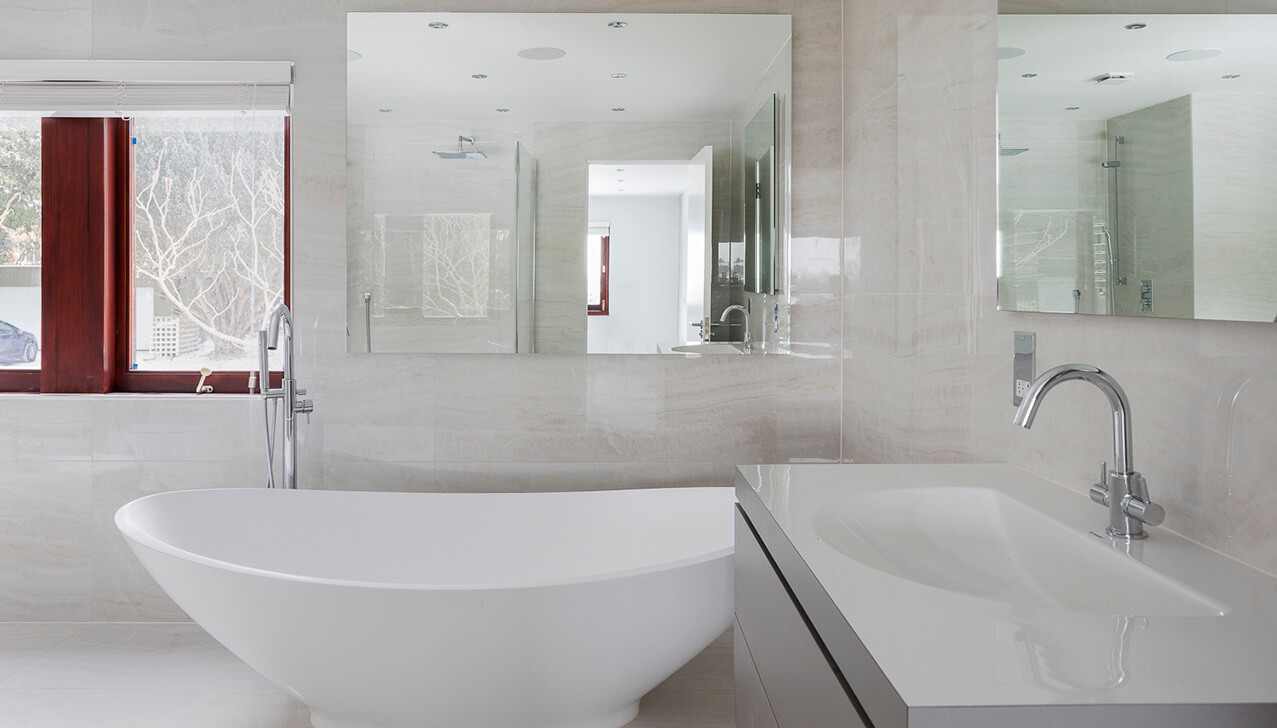 4. Color Schemes
Few things provide the ultimate luxury in a bathroom, and one of them is the color scheme. It's important to decide what look you are going for. Bathrooms tend to embody peace and relaxation, so it's best to opt for neutral tones to create the desired atmosphere. Stick to more colorful accessories, rather than making your tiles too busy! Neutral tones also reflect the lighting of the room better and establish a more comforting appeal.
5. Natural Lights
While purchasing the right lights are essential, one of the best ways to brighten up your room is to invite natural lighting into your bathroom. Remodel the room with bigger windows and allow that sunlight in. Sunlight is the best filter after all when you are admiring your reflection in the mirror; natural light also works wonders to warm up the room and provide a soothing atmosphere.
6. Walk-in Showers
If a bathtub takes up too much space for you, then opt for a walk-in shower instead. This can look ultra-glamorous and provide more space, as you can incorporate shelves within for extra storage for your toiletries. This also ends the issue of having water sprayed onto the floor every time you wash. A common trend now is to build a double shower for couples that provides enough room for two and saves time in the morning; you don't want to be late for work because your significant other took too long and used up all the hot water!
7. Sink Cabinets
Last but not least, a sink cabinet should be your number one choice when remodeling a home in London. This is highly recommended if you want your bathroom to appear less cluttered and supply more storage space. Sinks take up quite the amount of room, so why should they be chilling all on their own? A built-in sink over a cabinet is the best choice for any modern bathroom. With shelves and cupboard space underneath, you can store everything from toilet paper, plungers and other items that you may not want out in the open.
These seven ideas are not too tricky to accommodate your new design. Find out what works for you and your style. Your bathroom should feel like a place where you can relax and feel refreshed.