Tips And Tricks For A More Functional Kitchen
Your kitchen is the warmest place in your home. You spend most of your time at home in this space packing lunch boxes for your kids, cooking lunch and cleaning up at the end of the day. It is not enough to have a beautiful kitchen furnished with the best appliances if it is not functional enough for your everyday use. People who do not necessarily enjoy their time in the kitchen, especially, need something efficient and easy to help them get out of there as soon as possible.
If you are thinking about remodeling your kitchen, we have got you covered with some tips and tricks that would make it more functional.
Forget About Open-Floor Kitchens
If you have been following interior designing trends for the past decade, you probably still think that an open kitchen is the best way to go. While everyone has been tearing down kitchen walls for years to merge their kitchen with the living room, they are just not functional. On the days you spend the whole day in the kitchen whipping up tens of dishes, there is no way your kitchen wouldn't be a complete and utter mess by the time you finish. You do not have the choice with open kitchens to put off cleaning until your guests leave, which is not that efficient. Another problem with open kitchens is that no matter how many ventilation systems you install, you won't be able to stop the different pungent odors from traveling into your living room and sticking to your furniture. Unless you have a huge house where the open kitchen is far away from your seating area, it is better to stick to the more traditional closed kitchen plan.
Add Extra Cabinets
This is very useful when you do not have the space to add more countertops. We often cram our countertops with containers, jars and kitchen appliances because we do not have enough storage space. By adding extra cabinets when remodeling a kitchen, you will be able to keep your countertops clear and you will have enough space for meal prepping. Ask your interior designer to equip your cabinets with useful mechanisms like a pullout pantry, which works great with deep cabinets. You can also add a Lazy Susan mechanism for corner cabinets to have better accessibility.
Spend Enough Time Considering Your Kitchen Layout
It is very crucial to think about how you want your kitchen layout to be. You are the only one who can create the flow that you are looking for based on how you approach your kitchen. You can easily figure this out by going over how you move about in the kitchen every day. For example, starting with your first meal, which is the first time you enter your kitchen during the day, you want to have the items you need for breakfast handy. When you sit down to eat, you want the tableware to be around the dinner table and not far away across the kitchen in a random drawer. The idea is to provide ease of movement and create an easy flow that accommodates yours and your family's needs.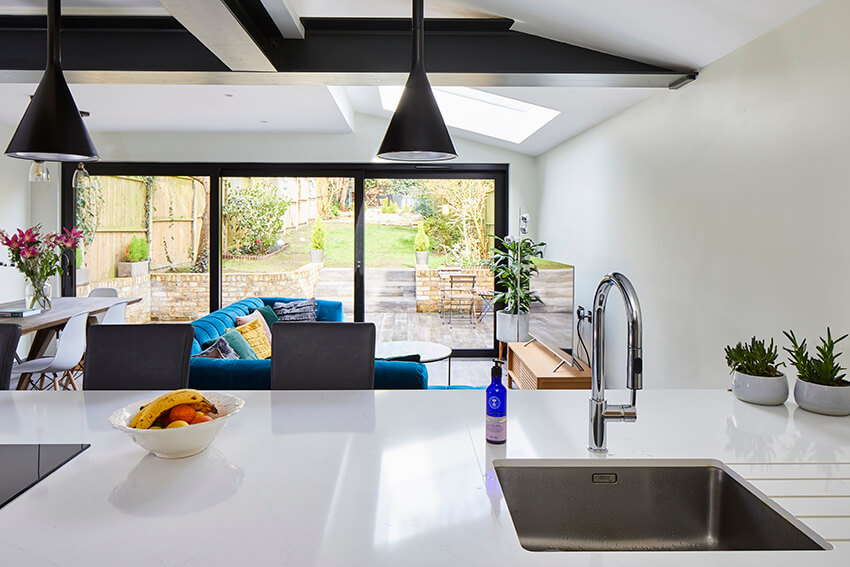 Install Different Lighting Sources
Adding different light sources all around your kitchen will make it more functional. Instead of having one lighting fixture placed in the center of the kitchen, play around with hidden lighting sources that you can use as needed. Add hidden lamps inside your cabinets and around the coffee station and sink. This way, you will have better lighting efficiently put in place to better serve your needs. Indirect lighting can also give a cozy vibe around your kitchen during nighttime.
Replace Your dining Table with an Adjustable One
This is a great tip if you have a limited kitchen space. If you and your family are used to having family dinners in the kitchen, you do not have to forgo this tradition on account of limited space. Simply replace your dining table with an adjustable one that you can extend open while eating. Once you are done, you can fold it back so you can move around freely. Unlike before, adjustable tables do not have to be flimsy or look cheap; you can find some elegant hardwood options to choose from, or you can even have it custom-made. Do not forget to think about the chairs, make sure they are stackable and can be easily put away.
We all have different needs when it comes to using our kitchens. However, we can all agree that the more functional it is, the more efficient we will become especially on days when we are rushing to get out of the house in the morning. By considering your unique routine, you can help your interior designer bring your vision to life. Use the above tips to create the functional kitchen of your dreams.